Home
IAQ SERVICES & PRICING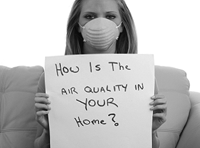 COMPREHENSIVE MOLD INSPECTION & REPORT
Mountain Environmentals provides the most comprehensive mold inspections available in this area. They are conducted by our professional IAQ Testing and Inspection Specialists, certified by the National Association of Mold Remediators and Inspectors (NAMRI). Our inspections involve a thorough industry standard investigation of the structure, covering all key components of the structure including but not limited to:
Grounds (grading, soil and drainage)
Exterior (porches, steps, doors, windows, gutters, downspouts)
Structural (foundation, attic, crawlspace, roof as observed from ground)
Plumbing (sinks/drains, toilets, water heaters)
Interior (all accessible rooms and closets)
HVAC (filters, return air box, condensate drains, visible ducts and vents)
For more information, click here to review our Mold Pre-Inspection Agreement.
Our Mold Inspections also include utilization of a Laser Particle Counter/Air Quality Monitor to determine and record particulate matter counts in and around the structure during the Inspection period. We collect this data by taking samples from numerous areas, both outside in proximity to entry doors, and indoors in main living/working areas. These tests provide particulate counts in two size ranges, 0.5 to 2.5 microns (most mold and mold spores range from 3 to 30 microns), and secondly, those larger than 2.5 microns - click here for a Particle Size Chart (useful in knowing what you can easily filter out of your air and what you can't). While these tests do not identify specific species or types of particulate found, we perform them to record and establish a baseline of particulate counts across a wider area. This can help determine the need for further investigation, lab testing or perhaps just the need for an HVAC filter replacement.
Pricing is primarily dependent on size with $450 being typical for inspections of structures up to 2,000 square feet.
A detailed report is provided upon completion.
SAMPLE COLLECTING FOR TESTING
Air samples are collected using calibrated pump gear and spore traps. Visible mold samples are captured with tapes, swabs or in bulk. After collection, they are sent out for lab analysis and their results that define the types found and estimated levels of those in the air are provided in report format. These tests are optional and can be purchased separately from other inspection services - Pricing is $200/sample.
With further regard to air sampling, industry professionals recommend as a minimum, two indoor samples, and one outdoor sample be collected in/at the home - dependent of course on home size and layout. Mountain Environmentals recommends this route if initial Laser Particle counts are high and/or site conditions are suspect or most importantly if the occupant's health conditions or concerns demand it.
If visible mold is present, further testing may not be required, however testing to determine the types and levels present in the home including in a crawl space (where elevated moisture levels are very common), is a good protocol to follow. Especially prior to having any encapsulation/remediation services performed, and we stress again, anytime health concerns are an issue. Testing beforehand will help gauge the success of the remediation efforts through post remediation testing and comparison of the before and after results.
In short - ALL mold should be treated as toxic and addressed accordingly with regard to removal and moisture control efforts.
---
RADON INSPECTION & TESTING - AIR
We conduct a full visual building Inspection for potential radon entry points and conduct an EPA-compliant 48-hour radon test using the Radalink Air Cat - a Pulse Ionization Chamber Detection, Continuous Monitor unit - check out the specs and their website here. This state of the art unit records readings every hour during the test period, following the prescribed 12-hour "closed house" conditions required prior to test start. (With the exception of one, same minimally used door for ingress/egress, these conditions must remain during the full 48-hour test period - see our Non-Interference Test Agreement, click here). Upon completion, the results are uploaded to a lab via internet for analysis, charting and commentary, with a full report provided no later than the next business day.
This short term test is great for real estate brokers and builders when needing to test a home listed for sale, one about to be purchased, or one where construction or remodeling was just completed.
Please note that the use and operation of this type of monitor are by our technicians certified by the American Association of Radon Scientists and Technicians (AARST) and the National Radon Proficiency Program (NRPP). The sophisticated, calibrated gear we use for these important tests complies with industry standard measurement protocols including the EPA and American National Standards Institute (ANSI).
Depending on results, follow on testing and mitigation (by others) may be required.
Pricing for a lower level living area (including a basement considered as a possible future living area) up to the EPA recommended 2,000 square feet is $165 (includes independent lab analysis). Structures larger than this may require additional test locations, at $95 each (including independent lab analysis) - to be determined during the initial inspection.
We also offer long term testing (90 days to 1 year) - using Alpha Track devices - recommended for test results that fall between 2.0 pCi/l and 4.0 pCi/l. The longer test period provides a more accurate "year round" average. Pricing of $125 includes placement and retrieval of one device and lab analysis.
Also Note: Due to the serious documented negative health issues that radon causes, the EPA recommends that ALL homes and schools be tested EVERY two years!
---
RADON INSPECTION & TESTING - WATER
Radon in water, especially if the water is from a private well can collect in the water underground and be released into the home when showering, washing dishes or doing laundry. While all private well water should be tested for bacteria and other contaminants at least every year, high levels of radon in water will likely only be present if the air in the home tests high. There are mitigation protocols available to safely and easily either filter or vent off the unwanted gas if indeed found to measure high.
There is a specific procedure to be followed in collecting the sample(s), which are then sent to the lab for analysis.
Mountain Environmentals will provide this service for $165 per sample (one per water system is sufficient), performed in conjunction with any other services provided during the same test/inspection period. Price includes independent lab analysis.
---
---
ADVANCED TESTING SERVICES
There are a number of advanced lab tests such as ERMI and Mycotoxin tests - see below, that can be performed for those who just want to know more, but specifically for those especially sensitive to molds, those with compromised immune systems or existing health conditions that a moldy environment will only serve to aggravate. These tests can also be used as a tool to predict if your home is likely to have a history of water damage.
We take your health very seriously, your professionals at Mountain Environmentals will collect test samples for these advanced tests, submit them to the lab for analysis, maintaining an important Chain of Custody (COC) to track the sample(s) from start to finish, ensuring that what was analyzed and reported on did indeed come from your home or building.
Please contact us for more information on these and other lab testing services.
---
ENVIRONMENTAL RELATIVE MOLDINESS INDEX (ERMI) TEST
What is ERMI? ERMI is the Environmental Relative Moldiness Index - the combination of EPA research, powerful PCR technology, and a new method to screen homes for mold.
The ERMI test involves the analysis of a single sample of dust collected from a home or building, collected from living and/or sleeping quarters of the home. The sample is analyzed using a mold-specific quantitative polymerase chain reaction (MSQPCR) panel of testing developed by the EPA, a highly specific DNA-based method for quantifying mold species. The panel includes 26 species of water damage-related molds and 10 additional common indoor molds. The concentration of spore counts in the sample are used to derive an ERMI score that rates the "moldiness" of the sample against some 1,100 homes tested by the EPA . The ERMI value is typically between -10 and 20. The lower your score, the better.
Please note: The ERMI test should not be interpreted as an indicator of the current health of the occupants or a predictor of the future health. It, however, may give an early warning that the building has a higher mold level than the 1,100 tested when the ERMI was developed.
Usually performed as an adjunct to a standard Mold Inspection, the cost for this test is $385 (includes independent lab analysis).
---
ENVIRONMENTAL MYCOTOXIN TESTING
Mycotoxins are the poisonous compounds produced by a toxigenic mold that grow in damp or water damaged indoor environments.....like your home or work. It is not usually the mold itself that causes health issues, it is the exposure to the mycotoxins they produce and release into the environment, where they can be inhaled by the residents. Mycotoxins are well documented for their toxic effects on the human cell, causing a number of problems in normal cell function and association with a wide variety of clinical symptoms and diseases such as:
Kidney Toxicity
Immune Suppression
Autism
Neurotoxicity
Depression
Chronic Fatigue Syndrome
Cancer
Acute Pulmonary Hemorrhage
Aplastic Anemia
Birth Defects

The Environmental Mycotoxin Test will determine the presence or absence of 15 of the most common and most toxic mycotoxins, including 9 Macrocyclic Trichothecenes produced by the "Black Mold", Stachybotrys. Mountain Environmentals IAQ Specialists will collect the samples and submit to the lab for analysis.
Usually performed as an adjunct to a standard Mold Inspection and an ERMI test, the cost for this test is $385 (includes independent lab analysis).
Please contact us with any questions or for more information on any of our test and inspection services.
---
We accept Cash, Checks & Most Credit Cards for Payment

---
---

Mountain Environmentals
"Because we care about your air"


---